Want to join our pack? Here is what we need...
Frequently asked questions
Should I bring my dog for a meet and greet before boarding?
---
For extended stays, yes, plese contact us to schedule a short meet and greet so we can get acquainted and make sure we are a good fit for your dog. For daycare and short stays, you are welcome to schedule a meet and greet however it is not required as long as your dog is well socialized, comfortable around other friendly dogs, has never been aggressive towards dogs or people, and there are no issues that might make it difficult for us to care for him. Either way, we will reassess whether or not we are a good fit for your dog after his first stay with us.
VIEW OUR FACILITY.
---
I don't know if my dog will get along with the other dogs. Can we come for a meet and greet and see how it goes?
---
No, the safety of the dogs in our care is our first priority so with the exception of puppies who have not yet had the opportunity to socialize with other dogs, we will only meet your dog if you are confident that the dog will not act aggressively towards dogs and people. What we would recommend is that you make arrangements at another boarding facility for the time being, perhaps one that has a trainer available to assess your dog's social skills during a pre-boarding interview. If all goes well, feel free to contact us again the next time you need pet care and we would be happy to meet with you. Note: Unleashed by Petco in Granada Hills hosts a free puppy playtime a couple days a week. If you are looking to socialize your puppy, we recommend doing it in a controlled environment like this rather than going to a dog park where anything can happen.
---
Will my dog ever be left alone?
---
Nope, rest assured there will always be at least one person here to supervise/entertain your dog.
---
Where will my dog sleep?
---
Most dogs like to sleep in the dining room, either on the couch or on one of our comfy non-toxic dog beds. Some dogs will follow me to my room if they are still up when I go to sleep. The dogs have access to the non-carpeted areas of the house (the dining room, kitchen, hallway, and my room if I am in it) so they are welcome to sleep wherever they are most comfortable. All dogs sleep inside. (One of our regular guests likes to sleep in the bathroom!) We also have a few crates available for dogs who prefer to have their own "safe space."
---
Do you have separate areas for small and large dogs?
---
No, unlike most pet boarding facilities, we do not separate dogs by size. As a private home boarding with limited space and staff, we are extremely careful about who we accept. Any dog we take must be able to get along with dogs of all sizes. If we feel a dog is playing too rough for the group, even if it has the friendliest of intentions, he will not be allowed to participate in group playtime. Since we opened in 2011, we have never had an incident of a small dog being injured by a large dog however there is always a chance that dogs could get injured by accident even during friendly play. We make a point to check with small dog owners to make sure they are comfortable letting their dogs playing with big dogs. Also, we disclose the fact that we do not separate dogs by size on our service agreement. By signing the agreement, you agree to accept the inherent risks of interactive play. Our big dogs love their little friends. And the little ones get a real kick out of chasing the big guys around the pool. Check out this video of Jake the German shepherd-husky playing with little Tesla...
---
What do I need to bring when I drop off my dog?
---
All we need is a secure collar, standard leash (no retractables), and your dog's regular food either packed in zip lock bags or in an air tight container labeled with your dog's name and feeding instructions. (Please specify the amount to feed per meal in standard measuring cups...1 cup is 8 oz). Also, pack medication and supplements if needed. Please do NOT bring beds, blankets or toys. We have plenty here. *Excessive pullers and dogs who are difficult to manage on leash should bring whatever walking aid they are used to wearing to discourage pulling (e.g. easy walk harness, gentle leader, prong collar). Please make sure your dog is leashed upon arrival.
---
What if my dog is on a special diet or needs medication and/or supplements?
---
We can usually accommodate most requests however more complicated feeding/medication regimens such as raw food diets or insulin injections will be subject to an additional charge. I have a background in dog nutrition and holistic care so I understand what it is like to want to augment your dog's diet with all sorts of supplements. Obviously if your dog needs medication, we will administer as instructed. But please try to make it as simple as possible for us to follow. For instance, if your dog is supposed to take 1/2 a tablet of medication, make sure the tablets are pre-split. If you bring homemade food for your dog, try to use disposable containers or ziplock bags. We'd rather take your dog for a walk than spend time washing dishes. =) While I am all for feeding raw, I prefer not to handle raw meat when caring for multiple dogs. If your dog is on a raw diet, you might consider substituting a freeze dried or dehydrated food such as The Honest Kitchen or Sojos while your dog is boarding with us.
---
How many dogs will be there?
---
The number of dogs we have here varies from day to day. Our maximum capacity is about 10. There are days when we may only have a few dogs. You are always welcome to check with me before booking to see if any of your dog's friends will be here.
---
Does my dog have to be spayed/neutered to board at Green Doggie?
---
If over 9 months, yes.
---
Do you offer discounts for extended stays or multiple dogs? Is there a weekly rate?
---
No, we do not offer a weekly rate, extended stay or multiple dog discounts as every dog receives the same high level of care from the day they arrive to the day they leave. (Regular clients interested in long term/ongoing boarding may contact me to discuss options). For stays of 5+ days, we allow a 4 hr grace period on the day of pick up. Time beyond that is charged either by the hour at $10/hr or as a daycare if over 6 hrs.
---
Is this your only job?
---
Yes, this is what I do for a living! And no, we can't trade jobs. =)
---
Are the dogs separated at mealtime?
---
Yes. While our dogs are not food aggressive, I separate them for feedings to ensure everyone eats their own food.
---
Do you ever run into rattlesnakes on hikes?
---
Yes. We strongly advise K9 hikers to do rattlesnake avoidance training before the start of rattlesnake season. Even with the training, there is no guarantee that your dog won't ever be bitten but we have seen it work on almost all of our hiking dogs. The beagle in this video is doing the training for the 4th year in a row. She hikes at least once a week with my dad so they have crossed paths with quite a few rattlesnakes over the years. In fact, less than a week after this video was taken, they had a rattlesnake encounter (from a distance). Each time Boogie refused to go anywhere near the snake. Although we don't normally advocate the use of shock aversion training, this is one situation in which we feel it is necessary as it could literally save your dog's life.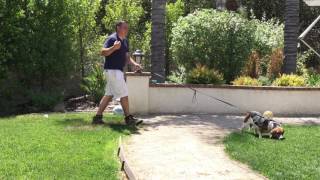 ---
What will you do if my dog becomes ill or requires medical attention during his stay? How is payment handled if you take my dog to the vet?
---
If your dog becomes ill or needs medical attention, we will attempt to contact you or your designated emergency contact. If we are unable to reach either of you and we believe your dog needs medical attention beyond what we are able to provide, we will take him to his regular veterinarian assuming the facility is local and the vet is available. If his regular vet is not available, we will take him to a vet of our choosing. The closest vet to us that is open until midnight 7 days a week is Pet Medical Center (Chatoak) in Granada Hills. Assuming your dog's injury is NOT a result of our failure to provide adequate care, you will be responsible for reimbursing us for all charges paid to your vet as well as a transportation fee and any other expenses incurred for your dog's treatment/recovery at the time of pick up. Even with the precautions we take and the high level of care we provide, there is always some risk of dogs getting sick or injured while boarding, particularly in a highly interactive play environment like ours. You accept these risks when you sign our service agreement.
---
What are your vaccination requirements?
---
Dogs must be current on Rabies, Distemper, and Parvo (DHPP). We do NOT require Bordetella (kennel cough vaccine). Ideally vaccines should be given no less than 14 days prior to boarding. Please note: If your dog is vaccinated for bordetella intranasally or orally, you must wait at least 2 weeks before coming here. *We will accept titer tests with proper documentation.
---
What else do you require besides vaccinations?
---
Please refer to our Policies page.
---
I have a high energy dog who loves to be outside all the time. Will my dog be able to run around and play all day?
---
Your dog will get plenty of supervised outdoor time and exercise throughout the boarding stay or daycare but we do NOT offer all day play or give dogs the option to stay outside by themselves. It is important for dogs to rest after playing hard and for the most part, rest takes place indoors. While we don't have a set schedule, our play sessions are typically followed by naptime. The dogs tell me when they need a break and when they are ready to go again. A tired dog is a happy dog but an overly tired dog is more susceptible to injury during playtime. We are NOT an appropriate boarding option for hyperactive or large dogs who play rough and need a lot of room to run around.
---
---
Hikes
---